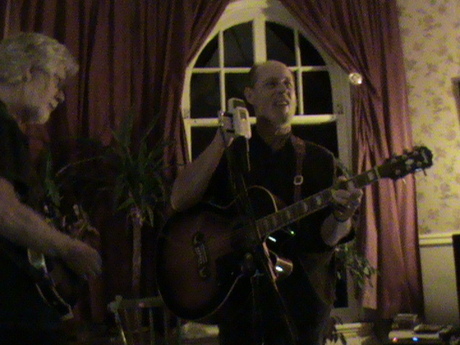 Little Feat
are a seminal rock band that came to prominence in the 70's by bringing all the strands and history of American music into one melting pot and serving a mighty meal of music that has effected the lives of music fans around the world ever since. These days the band still produce great albums and tour the world playing festivals and concert halls in all the major cities, they even have their own fan festival every year at a holiday resort in Negril Jamaca where they take over a beach and its hotel for two weeks. In-between times Paul Barrera and Fred Tackett (The Little Feat Guitar Duo) also release albums and tour the world as "The Little Feat Guitar Duo", perhaps reaching the places the band can't reach.
I got the chance to witness one of these at
Steve and Clancy McDonalds Square Wheels House Concert
in Strathpeffer in November 2009. Heres my video log, and the Medicine Show podcast - I chat to Steve and Clancy McDonald and some others at what was a remarkable concert with Paul Barrere and Fred Tackett (The Little Feat Guitar Duo) November 19th 2009, I chat with Paul and Fred as part of the podcast after that. Enjoy! Rob Ellen
Down On The Farm
And now the whole concert which will be broadcast on The Medicine Show Christmas Special December 23rd 2009 on Nevis Radio.
The programme opens with the very appropriate "To Much Fun" then I talk to Paul Barrera and we listen to Fred take the lead on "Honest Man", a song he wrote with Lowell George, then he talks to me about Negril. After that we can all settle back for two of the great musicians of our time having the time of their lives, enjoy!!
Little Feat
www.littlefeat.com
Square Wheels House Concert
http://houseconcerthub.ning.com/profile/SquareWheelsHouseConcerts
Euro House Concerts
www.houseconcert.eu
The Medicine Show
www.themedicineshow.eu
PS We need your help to launch
The Medicine Show podcast
If you've enjoyed the music and this feature, please share it with your face book, myspace, twitter and indeed anyone you think would be interested. Here is Scotlands Cousti opening up for paul and fred